Travel Adventures
Brooklyn is home, but I love traveling the world. Mountains are my favorite, from the Rockies to the Alps to the Himalaya. Ancient empires are dear to my heart, from the Anasazi to the archaeology of Southeast Asia. Desert, forest, the list goes on. Here's a bit of each from my wandering.


-- Bill










The Mevrouw Who Saved Manhattan

Reviews


"[A] romp through the history of New Netherland that would surely have Petrus Stuyvesant complaining about the riot transpiring between its pages ... Readers are guaranteed a genuine adventure that will evoke the full range of human emotions. Once begun, they can expect to experience that rare difficulty in putting down a book before they have finished."


-- de Halve Maen, Journal of the Holland Society of New York, Summer 2009


"Bill Greer has deftly blended fact and fiction in his humorous tale The Mevrouw Who Saved Manhattan. ... The characters are rowdy, raunchy, loveable, and sometimes despicable, but thoroughly believable. ... This is a thoroughly delightful story that brings the Dutch colonies to life."


-- Historical Novels Review Online, August 2009
Bill's Book
The Mevrouw Who
Saved Manhattan
A Novel of New Amsterdam
"A very authentic ring,
like etchings by
Van Ostade and Steen."
-- Charles Wendell, Ph.D.,
President of the
New Netherland Institute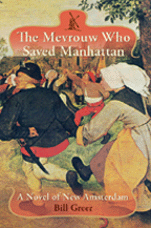 Join Mevrouw Jackie Lambert
on a madcap ride through
New York history.
More about the book.
Buy the Book at
Amazon
Also available
for the Kindle
and the Nook
Download 50 Pages
and see what you think
What readers say:
"Hilarious. Jackie had me
laughing out loud."
"Authority beyond question."
"People and action [are]
right on the money."
"Gets better and
better ... toward a
highly satisfying resolution."
"How lusty those Dutch are."